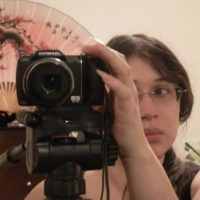 About Ellice Sanchez
With six years experience in design, Ellice has done work for clients such as San Antonio Parks and Recreation, the City of San Antonio, Delicious Tamales, The US AirForce, Christus Santa Rosa, the University Health Systems, Sunset Station, Sushi Zushi Corporation of Texas, San Antonio Conservation Society, NIOSA, the San Antonio International Airport Concession, Representative Ivory Taylor, the Vidorra Condominiums, American GI Forums National Veterans Oureach Program, Republic National Distributing Company, Lifetime Fitness, Mr. W Fireworks, the RK Group, Pape-Dawson Engineers and other companies, working on projects ranging from signage, business cards, content management, design support, website design and coding, flyers, billboards and e-blasts.

After going through some job hunting, hiring processes, 'quitting' and being laid off, there is a lot to learn about having a graphic design job. Here are tips based off my experiences and some legal resources that you should read before accepting a job offer.